I have always loved crafting. As a kid I was doing projects literally every day! My mom had an in-home daycare and she did a fantastic job of facilitating fun craft projects focused on learning letters, science, animals, space, shapes, colors, the list goes on and on. I often reflect back on this time and now that I have my own Little One I think of how much work that must have been! Little One is not quite to the crafting stage yet and just thinking about it stresses me out a little bit. So in this post we explore a resource on how to find stress-free kids crafts.
That is why I was so happy to find Green Kid Crafts. They have taken the stress away from me having to figure out projects. They are a monthly subscription box that delivers age appropriate, education-focused, and Eco-friendly crafts right to your door step!
I don't know about you but I am busy. Both my husband and I work, and between getting dinner ready, keeping the house semi clean, and trying to have quality time with Little One, it doesn't leave much time for planning out craft projects.
Just so you know – read through to the end for a special offer!
**Disclaimer: This blog post contains affiliated links. As a Green Kids Crafts associate, I earn from qualifying purchases. If you buy from them, I might be rewarded credit or a commission of the sale. Please note that I only recommend what I personally use and love and I always have my readers' best interest at heart
The Contents
Green Kid Crafts offers both subscription packages or single purchase boxes for the kiddos. All the boxes contain 4-8 projects and are developed around STEAM (science, technology, engineering, arts, and math).
The boxes range from ages 2 years to 10+ years. I wanted to try one even though Little One is still a bit young for the boxes. So I got one and did all the crafts myself…just kidding. But I did get one for my niece in the 10+ category and she loved it!
Why Green Kid Crafts
There are many subscription boxes out there, so why this one? I personally gravitated toward this box for a number of reasons:
First, they are very Eco-friendly, as I try to be with all my crafting. Green Kid Crafts is actually a carbon neutral company! There will be more on that below.
Second, there are multiple activities in each box. I have checked out some other subscription boxes, and while very cool they often offer one or two activities. Green Kid Crafts offer 4-8!
Third, every box focuses on science, technology, engineering, arts, and math! The boxes are developed by child development experts, and you can click this link to read bios of the child development team. I think it is so important to know that the projects are thoughtfully created by a team of experts.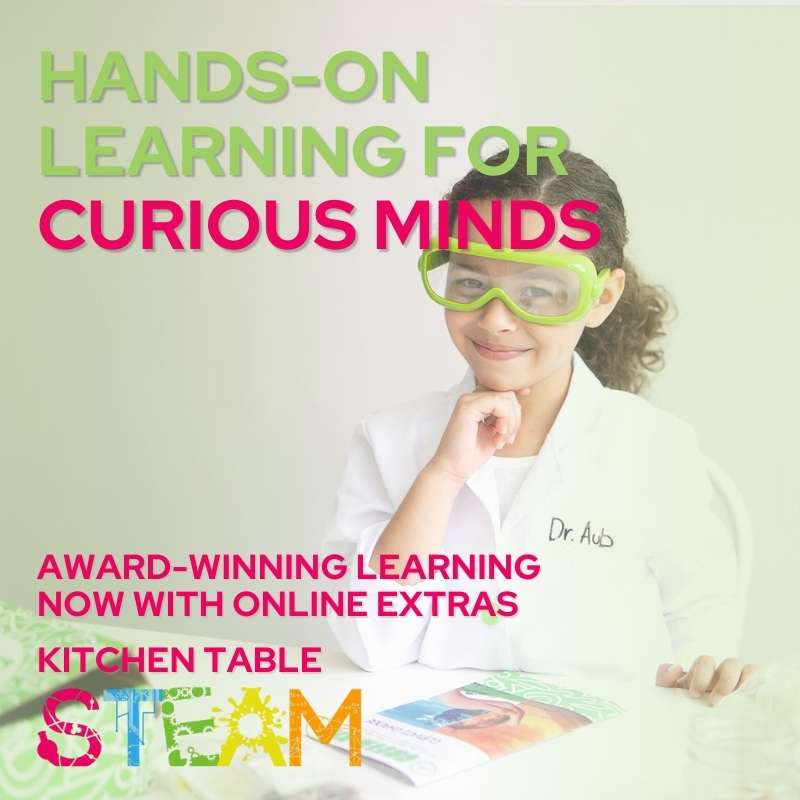 The Company
As my husband and I keep considering the types of consumers we want to be, it is really important that we know where we put our money. That's why we support companies like Green Kid Crafts – they hold and implement so many of the values that my husband and I believe in, too.
Green Kid Crafts was started by a mom wanting to encourage learning, development and creativity in her own kids' lives. Mom power! She is an environmental scientist committed to creating a product that has as little impact on the environment as possible. They also have a partnership with the CarbonFund, and, like I mentioned before, is a carbon neutral company.
They use 100% recycled materials for all of their packaging, as well as implement sustainability into the contents of their boxes.
Green Kid Crafts partners with One Tree Planted, and they plant one tree for every online order! Click below to find out more.

The Blog
The Green Kid Crafts website has a blog that is packed full of fun activities to do with your kiddos. You can easily do some projects at home by following their clear directions. So when you are wanting to plan projects, Green Kid Crafts makes it really easy. Just go check out their blog page and pick from all of the wonderful activities they have available.
Special Offer
For a limited time you can get 60% off your first STEAM box! By clicking this LINK here. I will also receive some credit when you use this LINK, so thank you in advance for helping keep Little Family on the Big Lake up and running.
Or you can click the Order Now button to check out Green Kid Crafts subscriptions boxes. And don't forget to use the code SUMMER19 and receive 50% off your first order. I am not sure how long this sale is running.
But to get the 60% off use my special link!
See their site for full promo code details and terms and conditions.
I hope you like the Green Kid Crafts boxes as much as I do. Let me know if you got a subscription box and what you thought of it in the comments below!
Next, check out my post on how to make a felt vegetable garden.